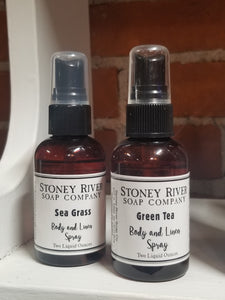 Stoney River Soap
Spray Bottle with fragrance oils 2 oz
Regular price
$6.00
$0.00
Unit price
per
2 oz spray bottle, made with water, fragrance oils and aloe vera. 
SPRAYS available scents:
Available in the following fragrances:
-Asian Plum (a deep blend of plum, exotic orchid, jasmine, musk and vanilla.)
-cucumber melon
-fresh linen (crisp and clean, reminiscent of linen sheets drying in the warm summer sun. )
-green tea (a tranquil blend of green tea, pink grapefruit and lemon tea with oakmoss and musk.)
- calming waters (a fresh blend of apricot, geranium, cucumber and fresh water)
- rose
- love
- coconut
- freesia
- highlands (for men)
- fireside (for men)
- sea grass (for men)

Lasting, but not overpowering
I was looking for a perfume substitute, and I found one! I bought the Asian Plum and the Sea Grass. The Asian Plum is fruity and reminds me of Plumeria at Bath and Body Works. The Sea Grass is very earthy and nice. It's the one I use most often. Sea Grass would be great for men or women. It is a nice clean smell.