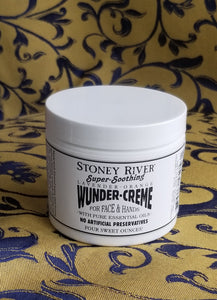 Stoney River Soap
Face and Hands Cream
Regular price
$19.50
$0.00
Unit price
per
   Stoney River skin cream is very mild and what your skin craves. It is perfectly formulated for face and hands. I started making it a few years ago when I got tired of spending $40 for a 2 oz cream, full of ingredients that I couldn't even read. 
The important thing for me is that my skin feels good and hydrated, and that it doesn't break out from using harsh chemicals. I use it every mornig, and my face feels hydrated all day.
Ingredients: water, shea butter, avocado oil, apricot kernel oil, emulsifying wax, stearic acid, essential oil of palmarosa or lavender and orange, and aspen bark powder.
Choose from lavender orange or palmarosa scents.
COSTUMER FEEDBACK : 
~"Fantastic soaps. The hand and face cream is the best cream I have ever tried! I wash my hands constantly at work and one application of this cream keeps my hands moisturized all day, they no longer crack and bleed! I tried a lot of creams and lotions but this one beats then all!!" 
~FABULOUS! FANTASTIC! GREAT GREAT CREAM! REALLY LOVE IT! THANK YOU SO MUCH - PERFECT FOR MY SKIN IN THIS HARSH HIGH DESERT WEATHER
~Awesome moisturizer!!! I have tried it all from harsh chemicals and try aveeno the supposedly natural product and this stuff doesn't sit it's so lite and my face and hands never felt so soft. Thank you so much'.
Nice thick lotion
This lotion is thick. It goes on smooth, and it feels and smells great! It soaks in well, and my hands and face don't feel heavy or greasy. Very moisturizing!
Thank you! We appreciate your kind words! :)
Great products
We have purchased bath bombs lip balm shampoo soap, conditioner soap, and bath soap. We love them all.
another great product!!!
The cream has a silky feel and a great smell, I have loved every product I have purchase, and this one didn't disappoint. Thank you for great natural products.
Face and hands cream
Love this stuff for winter dry skin. After a few minutes, it soaks in and feels soft and smooth. Will definitely be gifting this to the ladies I know.
Thank you for being a longtime loyal customer and for gifting our products to your lady friends!!