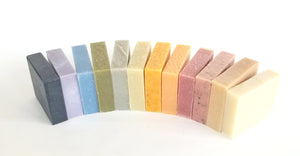 Stoney River Soap
16 soaps
Regular price
$88.00
$0.00
Unit price
per
ATTENTION RETAILERS:
If you have a tax ID number, please contact me for a link to our wholesale accounts.
 All of our soaps are made with:
Non-GMO 

Olive

 Oil

Non GMO coconut oil

Organic sustainable palm oil
Available with or without labels.
SCENTS Soaps are available in the following scents: Tell us your choices at checkout.
The following soaps are scented with essential oils.

-Beer Soap (made with real beer and scented with essential oils of lemon, orange, litsea cubeba and palmarosa)
-Cinnamon orange: cinnamon leaf, sweet orange and tea tree
-mint field: peppermint and tea tree
-honey oats: contains oats, honey, lavender and litsea cubeba oils.
-dark forest: spruce, eucalyptus, cedarwood.
-Lavender -Patchouli : patchouli, cedarwood and ylang ylang.
-Rosemary's Garden: lavender, rosemary, eucalyptus, patchouli, palmarosa, rose petals
-Sweet Lemon: lemon, bergamot, litsea cubeba
-Goat Milk Soap (scented with palmarosa and litsea cubeba-with a mild citrus scent)
-Lavender Spearmint -
Lavender Patchouli
-Patchouli Orange
-Kaolin Clay with essential oils of clary sage and grapefruit
-Bentonite clay shaving soap : lavender, cedarwood, patchouli, lemon, grapefruit, vetivert, eucalyptus, orange, palmarosa -Activated charcoal (with Lavender,Amyris,and Vetiver)
-Sea Clay (scented with Vetiver,Bergamot and Ylang Ylang)
-Prairie Flower (with rose  petals, scented with the essential oils of lavender, palmarosa, lemongrass and grapefruit.)
-Indigo Bay (scented with lavender, cananga and orange essential oils)
The following soaps are scented with fragrance oils.
Sandalwood Musk 
Coffee
Pumpkin Pie
Christmas Wreath
Gingerbread
Fireside
Highlands
Sea Grass
I offer these also unscented: Activated charcoal
High quality soaps
I love these soaps! They are great on my skin, not drying, and they smell awesome! My favorites are the lemon, lavender, sea grass, and a brown one that reminds me of Christmas smells, but I don't remember the name of it. I like being able to pick out different soaps and have them on hand when one runs out. I prefer these soaps to store bought chemical filled soaps.
Thank you!! So glad you like our soaps!! :)
Amazing Products
Since using the soaps and lotions from Stoney River Soaps my skin is soft and no longer looks like snake skin. I just love their products and highly recommend them all!! I love the ability to order variety and with or without labels.
Thank you so much!
We appreciate you being such a loyal longtime customer!!
16 soaps- review
I love it. Great variety. Perfect gifts for many friends. They smell delicious.
Thank you for the nice review! :)