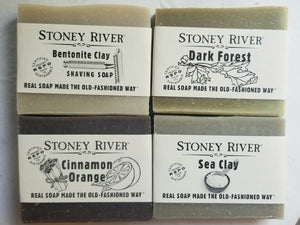 Stoney River Soap
Men SOAPs set - 4 Handmade Natural Homemade Soap -
Regular price
$23.00
$0.00
Unit price
per
What you will like about my products is the high quality of each item combined with a simple earthy look. I want my products to be affordable for every day use, very functional and at the same time luxurious in the way they feel, made with natural ingredients and great for sensitive skins.
My soaps are mild and long lasting, made with vegetable oils: olive oil, coconut oil and palm oil.
Made with ORGANIC SUSTAINABLE PALM OIL. Each bar is an average of 4-4.5 oz. Great soap for sensitive skin.
The set includes: -Cinnamon orange: cinnamon leaf, sweet orange and tea tree -Dark forest: pine, eucalyptus, cedarwood. -Bentonite clay shaving soap (scented with a blend of essential oils that I created specifically for the beard balm: lavender, cedarwood, patchouli, lemon, grapefruit, vetivert, eucalyptus, orange, palmarosa). -Sea Clay (scented with Vetiver,Bergamot and Ylang ylang.